Beyond Financial Inclusion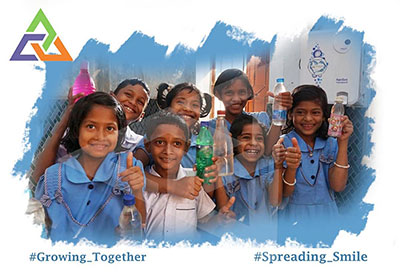 Annapurna Finance, because of its roots is highly invested in holistic social development. Besides, supporting a large number of women from rural India through several innovative products, Annapurna Finance also spends a mandatory amount every year in corporate social responsibility initiatives. The CSR initiative of the organization ranges from supporting a child care institute, funding environmental drives of government like plantation, taking up voluntary social work for the betterment of the community etc.
In 2018, the focus of the CSR initiatives was improving the learning environment in schools. Schools play a very important role in overall development of children, as this is the learning ground for children. Improving the school environment has the potential to provide the children a better learning experience, as it is a second home to them. Annapurna Finance with children from 46 schools from Khurda and Jatnicelebrated Greening Campus programme this year. In this programme, along with plantation of seedlings in the school campus, also several competitions like drawing and debate were organized for the school children, Mr. Prakash Jena from Odisha Environmental Society sensitized the children on the need of forest and cleaner environment.
Also, Annapurna Finance installed UV water purifier in 33 schools of Khurda and Jatni. The schools were identified by testing the quality of drinking water available for the students and also availability of continuous water source required for the installation. In schools where continuous water source wasn't available, Annapurna Finance provided manual water filters for safe drinking water.