ADB buys 14% Stake in Annapurna Finance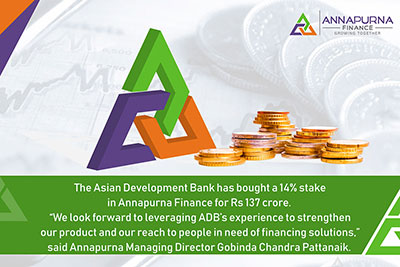 Annapurna Finance has diversified its portfolio in the MSME finance and affordable housing segment. It has opened 60 branches that are exclusively financing the MSME and housing segment.
Bhubaneswar-based micro-financier (MFI) Annapurna Finance has raised Rs 137 crore as a primary equity investment from Asian Development Bank (ADB), which will allow the MFI to extend micro-credits to women members of Joint Liability Groups (JLGs). According to media reports, ADB has picked up a 14-percent stake in Annapurna Finance.
While ADB's investment is an equity expansion, Annapurna's existing investors, including Oman India Joint Investment Fund (OIJIF), Oikocredit and Bamboo Finance Partners, have invested Rs 75 crore through a secondary round by buying shares from early-stage investors Incofin Investment and SIDBI Venture capital's Samriddhi fund.
Annapurna Finance Pvt. Ltd is a non-banking financial company- microfinance institution (NBFC-MFI) regulated by Reserve Bank of India. It was created for the purpose of growth in microfinance operation in the areas that are still away from the touch of the formal financial system of the economy.
Annapurna has micro-finance operations in 277 districts across 14 states serving 1.4 million, most of which are women. Over the last few quarters, Annapurna Finance also diversified its portfolio into MSME finance and affordable housing segment. It has opened 60 branches that are exclusively financing to MSME and housing segment.
In a statement, Gobinda Chandra Pattanaik, MD of Annapurna Finance, said that the latest funding will help the micro-financier in growing its presence in new asset classes like MSME and affordable housing.
The MFI has a network of close to 500 branches, and 85 percent of its borrowers are from rural India. Along with group loan products, Annapurna Finance also has individual loan products for disabled people, safe water and sanitation, consumer durables and environment-friendly energies.
The Philippines-headquartered Asian Development Bank (ADB) is an international development finance institution dedicated to reducing poverty in Asia and the Pacific through financing. Established in 1966, it is owned by 67 members—48 from the region. In 2017, ADB operations totalled $32.2 billion, including $11.9 billion in co-financing.
"Women, particularly in the rural areas in India, still have difficulty in accessing capital, which limits their potential and prevents them from contributing significantly to inclusive and sustainable growth," said Paul Flegler, ADB's Principal Investment Specialist for Private Sector Operations. He added, "ADB's support to Annapurna will expand its lending portfolio, helping ensure that rural women and micro and small enterprises needing capital can have better access to finance."