Mr. S Kishwer Chandra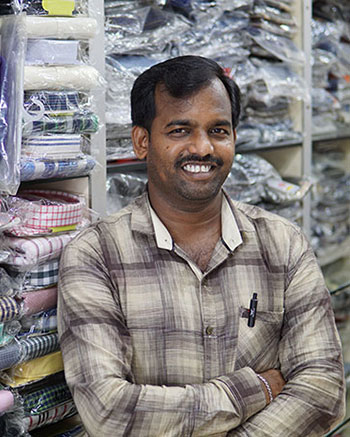 Mr. Chandra, the owner of Munna Fashion started his journey with a small clothing shop in 1991 but he always aspired to grow the business big in the area. With his industrious efforts and ability to see a vision, all his dreams are now turned into reality. His business rein is not limited to the same shop with which he started. Munna Fashion House is now the biggest clothing outlet in Keshpur offering a wide range of products. "With the untiring efforts and timely support from Annapurna Finance, I was able to achieve my dream", says Mr Chandra. Annapurna Finance provided Mr Chandra with a loan amounting to 6 lakhs for expansion of his clothing outlet. He has now stocked his store with better facilities and branded products thus catering to a wider market segment. He is looking forward to more financial assistance in furtherance of his dream and Annapurna Finance believes in providing constant support to such aspiring entrepreneurs.
Mr Chandra's journey proves those who dare to dream, can change those dreams into achievements as well.