Chandrabali Rout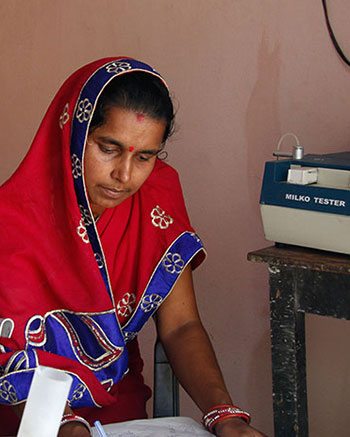 Mrs. Chandrabati Rout is a third cycle client of Annapurna Finance from Salepur branch in Odisha. With the first loan received from Annapurna Finance she decided to buy cows to increase milk production for household use. Realising the potential of milk business in her village, she bought two more cows with her second loan from Annapurna Finance. Because of her group's good performance in repayment, in third cycle they got a higher amount, INR. 55000 each and she added another cow in her livestock. The main advantage from this initiative was the regular milk production. After her family's daily consumption, she had around 20 litres of milk remaining, what she started selling.
She started a Milk collection centre ten months ago in collaboration with Milky Moo, a local dairy product supplier. she involved all local women with her centre and currently thirty families are providing their milk produce to the centre, which results in 200 litres of milk supply from her centre every day. The dairy company has given her a lactometer and promised to give an Analyzer, if the regular supply reaches to 300 litres of milk. Beside this, recently she has started a LPG delivery centre in the village, as many of the villagers are shifting towards LPG cylinders in place of using traditional fuelwood or stoves for cooking. Her 16 years old son helps her in day to day operation and she has recently employed one person for taking care of the livestock.
She shared, "I am no different than any other woman from rural India. I got married at an early age after doing higher studies, my husband stays out of home because of his regular work and I manage the household chores and take care of our two children like all other male dominated families."
"I discovered a new business opportunity as there are many women like me in my village and I started a Milk collection centre eight months ago in collaboration with Milky Moo, a local dairy product supplier. Now I earn around INR. 18000 per month on my own and my position has significantly changed in my family and society. I have a better decision-making power in my family and my husband consults me before any financial decision, I attend the social meetings with more confidence. There has been a remarkable change in my banking history, now I go to bank 2-3 times in a month for doing transactions myself. My future plan is to add a few high yielding breed cows to improve my milk production and income generation both." She added.
"I wish to give my children a secured future, where they can decide what they really want to do and hopefully with my savings I can support their higher education and ensure that future."